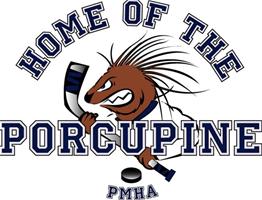 Winter Carnival Hockey Tournament
N.O.H.A. Tier 2 Hockey
South Porcupine, Ontario 
February 8 to February 11, 2018
May 2017,
Tier 2 Novice, Atom, Peewee, Bantam and Midget Hockey Teams
Porcupine Minor Hockey Association would like to invite your team to the 31st Annual Winter Carnival Hockey Tournament on February 8th, 9th, 10th, and 11th 2018.  This is a great annual hockey tournament.
This is an N.O.H.A. sanctioned tournament.  The Tournament fee is $850.00 per team, (No Gate Fee), with a guarantee of four (4) games per team.  Payment must be received prior to January 5, 2018.  Please make cheque payable to the PORCUPINE MINOR HOCKEY ASSOCIATION.  This tournament has a "No Refund" policy.  N.O.H.A. Travel Permits and Approved Roster are required. 
PMHA Winter Carnival Hockey Tournament 2018 – Rules and Registration Form

Registration with payment to be sent to:
P.M.H.A
449 Sony Street
South Porcupine, Ontario
P0N 1H0
Tournament Coordinator:
Kelly A. Byrnes
Phone (705) 465-5965
Email: pmha.info@gmail.com
Fax:  (705)235-4877
Website: www.porcupineminorhockey.com
Facebook:  Pmha Hockey